As the year comes to a close, I think I speak for many people when I say goodbye 2020! We are all glad the elections are over in the US, and here in Belize. We wait to see what the new PUP government will do for the country.
Although it was a strange year, to say the least, it was also a year full of blessings both personally and professionally. I would like to first say THANK YOU to my family, my team, my employees, my agents, and our wonderful clients that we are helping to sell or buy property in Belize. I could not do what I do without each of you. May you all have a safe and happy holiday.
State of the Union
Now that we are about 10 months into the pandemic, people are looking to travel and get on with life safely. As you can see in the graphic below from Tropic Air, new direct flights are becoming available, and others are resuming.
New flights include routes from San Salvador, Los Angeles, and Denver, plus regular flights from United Airlines and American Airlines. Others listed on the map are starting back up.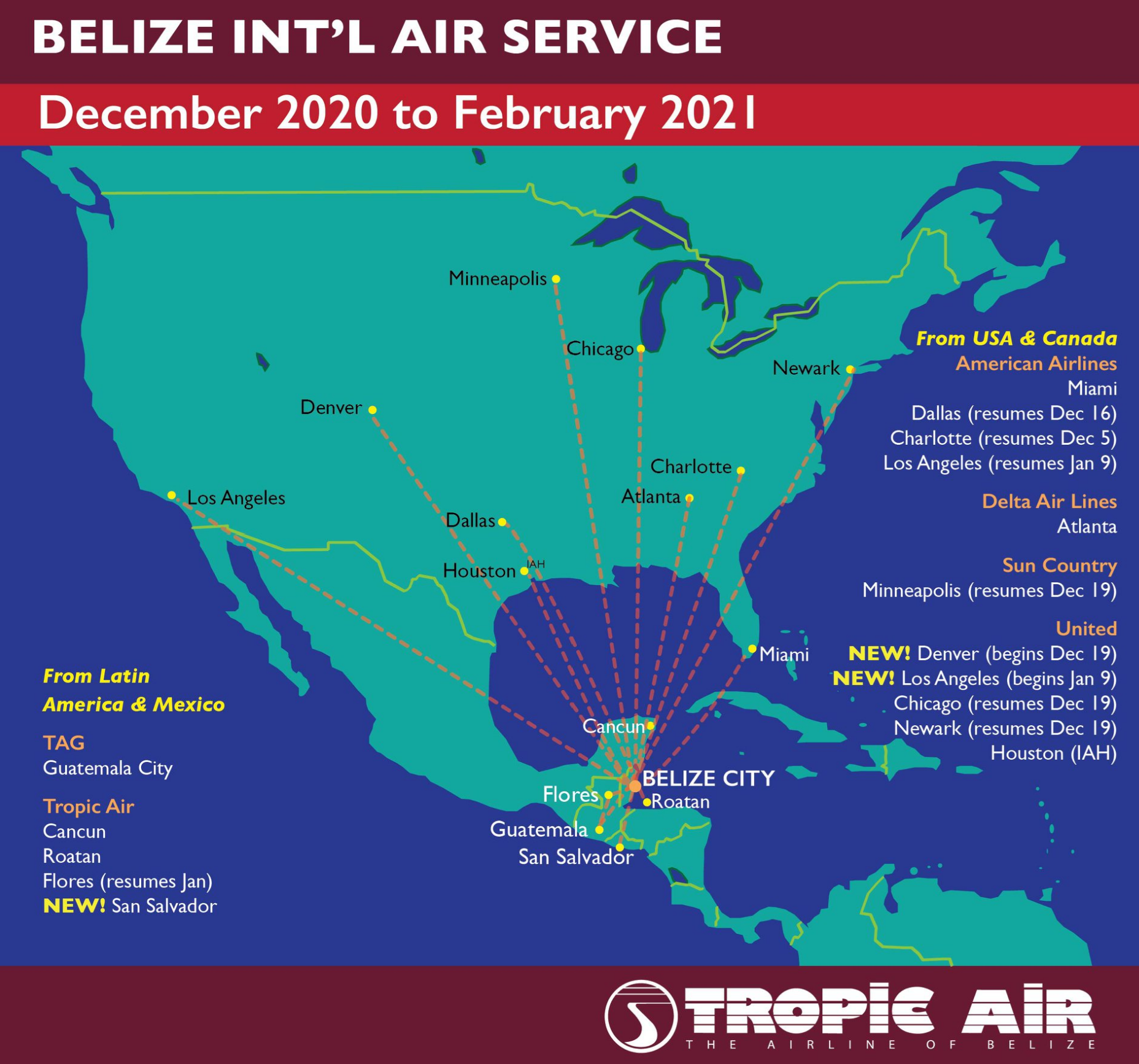 Recent studies and clues we see in the news, show 2nd home sales are up over 30%. Our worldwide marketing, which is the best in the country, is seeing increased leads. In November, we have seen over 197 leads from our exclusive relationship with realtor. com/ international. This does not include the other sites we have relationships with. We continue to see sale offers increase for our sellers while we navigate closing transactions between the shutdowns of The Lands Department.
As to the virus, we do see a rise in cases in the world, and Belize is not immune to it. As a whole, it just seems that people are just tired of being cooped up and getting careless. We have a few new restrictions, including a curfew at 10 pm. Of course, we're not alone in that regard. New restrictions are also going into place within the US and worldwide. When we asked our clients how they felt being here in Belize, they said they feel safer here than in the United States.
RE/MAX 1st Choice Belize
We at RE/MAX 1st Choice Belize have offices in Placencia Village and Hopkins Village. We are the largest real estate company in the country, with 15 agents nationwide and 3 more coming on board, including a husband and wife team in Hopkins. Four are Belizean, not including myself.
We can help no matter where you are looking and what you are looking for. Whether seafront or riverfront, and we even have plenty of properties with acreage for social distancing.
Our motto is Education for Effective Action. Together, our agents and I are here to help inform and educate so you can be confident that you are buying the best property at a fair price, at the right time for you. We want everyone to have an opportunity to enjoy the slice of paradise that we call home. Over 75% of our agents OWN property here as well.
We continue to offer our sellers superb marketing in ways that no other real estate company can compare with nationally known companies. We are here as a resource to you, connecting you with builders, movers, schools, and in any other way we can.
This month, I introduced a client to my car dealer, who helped them find and purchase a vehicle. We continue to outshine our competition doing what we do, better and ethically. We are RE/MAX 1st Choice Belize.
I have the privilege of living in Placencia and San Pedro, plus, I travel a lot to tradeshows and conferences promoting Belize. I AM A BELIZE AMBASSADOR.
As we prepare for a new year with new goals and objectives, I've decided to build a dedicated team that will help me continue providing quality service to our clients. We call it Kafka's Dream Team. My team includes the brilliant marketer Michelle Sharp and the esteemed IT master Hatem "Tom" Al-Ajba. Tom also is my assistant. I would like to welcome them to the team.
Stay tuned for other exciting announcements coming soon.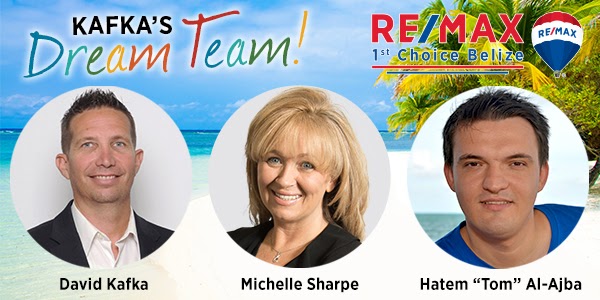 Caribbean Capital Group
A couple of years ago I started a company to help passive investors looking for an alternative to the roller coaster called the Stock Market. We invest in REAL ASSETS. I have learned about the best ways to invest in real assets from my training with Robert Kiyosaki, The Real Estate Guys, Peter Schiff, G Edward Griffith, Tom Wheelwright, Dr. Chris Martenson, and many others.
I would love to help you strategize and diversify your portfolio, talk tax strategies, and consult on investment opportunities. I am here to help you preserve your wealth and grow your wealth through my fund management company, Caribbean Capital Group LLC.
To get started, take our short qualifying questionnaire and then schedule a free 30-minute consultation.
Starting in 2021, we will be sending investment newsletters to those interested in learning how to invest and what active investments are available. If you are interested in receiving this exclusive content, fill out the form below to join our email list:
We long to see you here and have an adult beverage.
Until next time, stay safe and have a happy holiday.