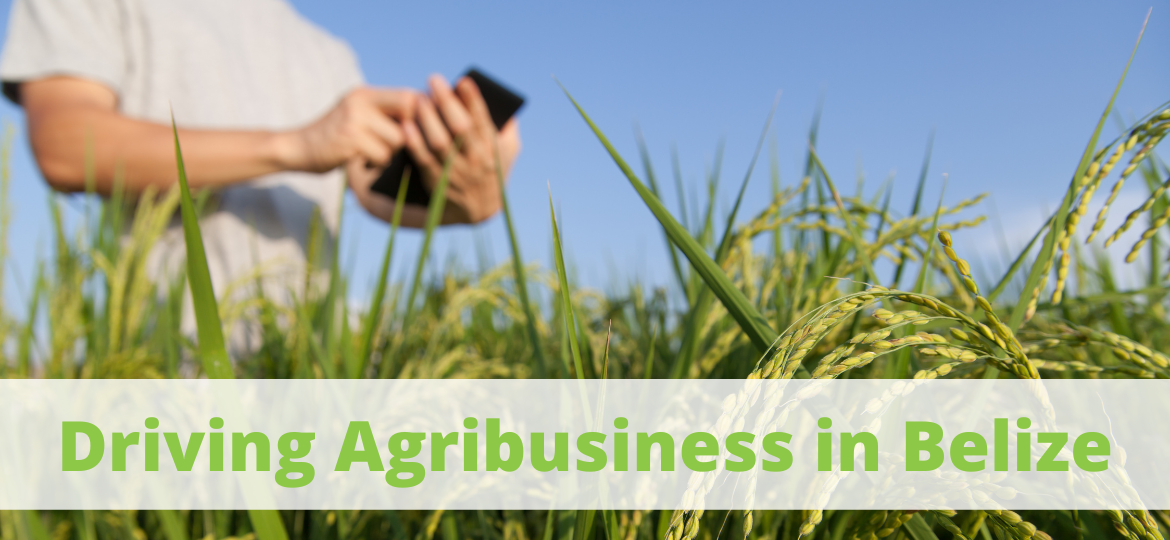 Belize is the Caribbean's fastest-growing market for tourism and one of the top tourist destinations in the world, but it also offers great opportunities for agricultural development and investment.
If I haven't piqued your interest with what I've shared in these newsletters, just wait until you see tourists visiting come December!
Belize's high tourism season is from December to April, with most visitors arriving in March.
Our "dry season" makes it the best time for amazing weather in Belize.
With its beautiful natural landscapes, sunny skies, and a year-round good climate, Belize is an ideal place to live and visit — but have I told you lately that Belize is a great place to invest?
Agriculture in Belize
With over 1.9 million acres of arable land, Belize is ripe for developing and investing in agriculture. Its close proximity to major markets offers another significant advantage as Belize continues to strengthen its international relations and expand avenues for trade.
Agriculture is one of the key drivers of the economy in Belize. In fact, the agriculture industry is the second largest contributor to the country's GDP. GDP From Agriculture in Belize weighed in at 50.55 BZD Million (~$25.15M) in the fourth quarter of 2021.
Agriculture and agribusiness are integral parts of Belize's economy and serve as the base of the productive sector, supporting a large number of laborers and workers.
This sector also contributes to the overall food security of the country as locally grown fruit and vegetables are consumed domestically.
Through the Department of Agriculture, the Belizean government works to provide an economic environment that is conducive to increasing agricultural production and productivity.
There are ongoing initiatives to promote investment and encourage private sector involvement in agribusiness enterprises in a way that ensures competition, quality production, trade, and sustainability.
Incubator Programs in Belize
Last June, the Ministry of Agriculture, Food Security, and Enterprise in collaboration with the Food and Agriculture Organization of the United Nations (FAO) signed agreements to support beneficiaries of the Agri-Business Technical Incubator Grant Program.
The Agri-Business Technical Incubator is a pilot project under Technical Cooperation Program (TCP3801).
The program functions as a business development support mechanism that focuses on nurturing innovative early-stage enterprises that have high growth potential to become competitive agribusinesses.
The incubator provides new, micro, and small agriculture-based enterprises with qualification, training, advisory, and consulting services.
Their goal is to help the participants develop and implement business plans to produce, agro-process, and commercialize local production in the national and international markets.
The program directs special attention to income and employment generation and the improvement of livelihoods of the most vulnerable groups in rural communities of the Cayo District.
An evaluation committee awarded the funding based on the participants' proposed strategy. The investments ranged between BZ$5,000 and BZ$15,000. Eight enterprises were supported with funding from a total budget of BZ$59,859.83.
The investments are given as assets to enable the enterprises to scale up and enhance their business operations. This phase involves financing proposed investments of enterprises that are undergoing the incubation process.
Capacity-building activities have been taking place through a virtual mechanism to deliver technical content in five key areas of enterprise development. In addition, mentorship and coaching services are available to each incubated enterprise through an assigned mentor.
Interested in Investing in Belize?
Belize can be one of your best options for wealth preservation, tax advantages, and asset protection — there's no Capital Gains Tax, no Estate Tax, and only a 1.75% Income Tax on real estate rental income!
Start your journey with Caribbean Capital Group by filling out our Investor Questionnaire!
P.S. I'd like to personally invite you to join me at Create Your Future™ – A Goal Setting Retreat organized by The Real Estate Guys™.
This life-changing 2-1/2 day event is happening January 6-8, 2023 in Lake Las Vegas, Nevada. If you book now through December 19, you can save big with their Early Bird Rate! If you want to start the new year with a renewed sense of purpose and clearly defined goals, timelines, and action plans — this is the place to get it done!
Click here to register for Create Your Future™. I look forward to seeing you there!