Caribbean Capital Group, LLC is proud to present this unique offering featuring one of Belize's premium, world-class products: cacao!
Be a part of this Offshore Investment Opportunity!
HOSTED BY DAVID KAFKA OF CARIBBEAN CAPITAL GROUP
Joining David is FINCA's Managing Director, David Santilli
Watch this Webinar Replay to learn more about this investment opportunity! 
This is a 506(c) offering open to accredited investors only.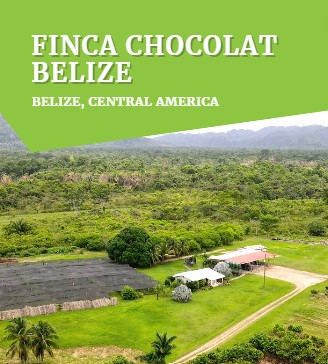 Investment Minimum:

$30,000
Project Returns:

9% to 11%
About this investment
Finca Chocolat Belize is a 515-acre cacao and timber farm on Barranco Road in the Toledo district in Belize. The cacao trees are planted on a 10' x 12' grid resulting in 400 trees per acre, with 85,000 trees currently in cultivation.
We have partnered with a successful chocolate farm owner, David Santilli, to offer shares in our existing 515-acre cacao farm mixed with Salm wood, lemon grass, vanilla, and other income-producing plants and agriculture and sell these parcels for cash flow to investors.
We're confident that this agribusiness investment will deliver a powerful combination of attractive yearly cash flow and long-term appreciation, culminating in high returns.
Investment Highlights
Well established farm

Currency producing

Legacy investment

Agriculture

Passive investment
This may be the right investment if you're looking to…
Help reforest the earth one tree at a time

Invest offshore for diversity

Have a sustainable investment

Have Cacao as a superfood

Have a legacy investment

Conservatively underwrite

Hold a passive investment
What makes Belize attractive to foreign investors?
Belize is the only predominantly English-speaking country in Central America
Offers a larger skilled labor force than its Central American neighbors

Its currency is linked to the American dollar

Affordable real estate with high demands and high appreciation rates

Property laws apply to both Belizeans and foreigners equally

No capital gains tax

Low property tax
The growing demand in the global market 
The global cocoa and chocolate market is projected to grow from $48.29 billion in 2022 to $67.88 billion by 2029, at a CAGR of 4.98% in the forecast period. Read More Here.
Belize: the world's true cradle of chocolate
The BBC has reports on the history of Belizean cacao and has deemed it the "world's true cradle of chocolate". Cacao – the principal ingredient for chocolate – was both consumed and used as currency by ancient Maya royalty and political elites throughout the historical region of Mesoamerica, which included southern North America and most of Central America. Archaeological evidence points to Belize as the earliest hub of cacao cultivation, where Maya were drinking cacao beverages as far back as 600 BCE.
Our investment objectives 
Caribbean Capital Group's objective is to provide a profit to our investors while we manage and produce the highest quality cacao. 
We intend to harvest, dry and deliver a superb product to sell to the marketplace. As well as harvest a high-quality hardwood tree called salmwood.
We aim to provide investors with a profit participating as we sell the lots to investors and a finished cacao to companies to make chocolate bars.
This is a 506(c) offering open to accredited investors only.
Watch this Webinar Replay to learn more about this investment opportunity! 
This is a 506(c) offering open to accredited investors only.
Disclaimer: This email summary is for informational purposes and to gauge potential investor interest.  This email summary is not intended to be a general solicitation or a securities offering of any kind.  Prior to making any decision to contribute capital, all investors must review and execute all private offering documents, including the Private Placement Memorandum and its exhibits, which contains the complete information about this investment opportunity. The information contained herein is from sources believed to be reliable, however, no representation by Sponsors, either expressed or implied, is made as to the accuracy of any information on this property and all investors should conduct their own research to determine the accuracy of any statements made.