I am reading a book called Free to Focus by Michael Hyatt, and it talks about the importance of unplugging. Last week for the first time in a year, I took the boat out and went fishing. 
It's sad how I live in such a beautiful place, and I don't do more diving and fishing. That will change as I will start to record videos of my life in Belize more often, so you can see what life is like here.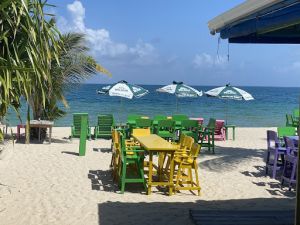 I do love to take my lunch break at my favorite places and enjoy the quietness of the sea and the beautiful scenery. 
As I'm writing this week's newsletter, the weather is 83-degrees (28 degrees C) with a nice breeze. I'm feeling for all of my North American peeps. I see snow in places that aren't known for getting snow and how the effects such as power outages, accidents, and no equipment to clear the snow affect those areas.
I also see added restrictions in Canada for traveling to the Caribbean at least until April 30, 2021. 
In the U.S., trillions of dollars are still being printed, and we have no idea how that money will be paid back. Did you see how the stock market can be manipulated? GameStop and AMC, for instance. 
When it comes to diversifying your income, we like gold, silver, and real estate. These are hedges against inflation and the falling dollar. 
Have you thought much about cryptocurrency? We are working on a new deal structure using cryptocurrency to purchase Belize real estate. Soon our new website dedicated to cryptocurrency purchases will be ready, so stay tuned! 
To learn a little more about the different types of cryptocurrency, read our past blog Blockchain Technology and Cryptocurrency… is This the New Way to Purchase Real Estate? 
Ask yourself: "Why not park some cash and preserve your wealth in an offshore asset?"  
Business is doing very well right now with sales. Many of our sellers are interested in offering seller financing. 
Check with your tax professional, but offshore investments can be a tax deduction. We have a webinar where we talk about this very subject. Watch How to Passively Invest to learn more.
With April 15 around the corner so fast, it's time to start planning 2021 tax mitigation strategies. We're happy to jump on a call to see how we may help point you to the right professionals, whether for asset protection lawyers, CPAs, Gold and Silver Dealers, and Minors. Either one of my team members or I can turn your dream into a reality and help you buy your own property in Belize. 
If COVID-19 has taught us anything, we've learned that it's important to have options. Some options include a diverse portfolio, precious metals, or assets outside of your home country. Remember, working from home or in Belize is always an option too! 
In closing, I wanted to give a brief overview of the latest news in Belize this week: 
The curfew restriction is raised to 10:00 p.m. 

Gyms are now open again, and our COVID numbers continue to drop. 

Whale Shark Season is coming up. What a great time to enjoy swimming with the Gentle Giant.
Whale Shark Season 2021


March 27– April 6 (Full Moon – March 27)

April 25 – May 5  (Full Moon – April 26)

May 25 – June 5 (Full Moon – May 26)

June 23 – July 5 (Full Moon – June 24)

Maritime Border is NOW OPEN for yachting! The reopening has been approved under the following conditions:
1. A licensed shipping agent is required for the vessel to enter; only shipping agents with special licenses are authorized to deal with these non-commercial vessels and are authorized to charge a set tariff of no more than $150 for their service.
2. Notice to enter must be made at least 72 hours before arrival.


3. The yacht's crew and passengers must show proof of a negative COVID-19 test upon entry. Both PCR (taken within 72 hours of arrival) and rapid antigen (taken within 48 hours of arrival) tests are accepted.

Thе

Саlіfоrnіа-bаѕеd Еthісаl Тrаvеlеr Mаgаzіnе

hаѕ lіѕtеd Веlіzе аmоng іtѕ соuntrіеѕ mоѕt lіkеlу tо bеnеfіt frоm оur trаvеl dоllаrѕ іn а роѕt-раndеmіс wоrld.

Ministry of Labor has instituted an online work permit application process.

Go here

to see who can apply and get the application and required documents. 

Ministry of Public Utilities launched

a new website

for energy news, programs, and events. 

Belize joins the International Solar Alliance.

Remember we give the good, the bad, and the ugly…two former brokers will

pay a combined $1.37 million

to resolve a U.S. Securities and Exchange Commission lawsuit accusing them of selling unregistered securities to some of the victims of a $22 million Ponzi scheme fronted by a purported airport project in Belize.

Until next week, stay safe! And if you enjoy what you read and watch here, please share the goodness with your friends. The best compliment is a referral.