It's no secret that I love sharing why real estate investing (specifically buying in Belize) is a great option when it comes to diversifying your financial portfolio. I also enjoy sharing advice and tips I've learned along the way, so you can be more informed about the options you have to secure your nest egg, and you can allow your money to work for you.
Often, we may overlook gold or silver, or you may even believe it's outdated. But that couldn't be further from the truth!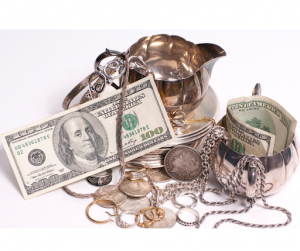 Gold and silver are real assets with real value, and they can offer stability within any investor's portfolio.

When there are potential economic problems that rise to the surface, it seems the go-to answer is to print more money. However, the more money that is printed, the more our dollars decrease in value, and prices will continue to rise. This causes inflation and the disappearance of money from your bank account.
Did you know that precious metals actually tend to become more valuable when paper money fails?
They're considered "precious" because they are always worth something…even more so during a crisis.
In fact, there is a public demand for deliverable hard assets, and precious metals are always worth something. They can also serve as potential hedges against inflation.
Did you catch that?
Gold and silver will always be worth something regardless of where you are in the world.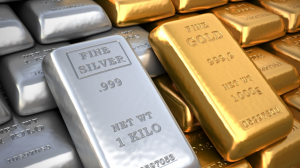 Here are a few other "golden" points on why it's smart to invest in gold and silver:
Versatile: These metals are versatile in that they can be stored as bonds, stocks, collectibles, currencies, real estate and more.
Tangible: They're also tangible assets which make it easy to access and store versus other financial assets that may only be accessible online or through an institution.
Private: Nobody ever needs to know you have the gold or silver. No need to work through an online brokerage. No stored online data means your investments are kept safe from third parties and hackers.
Globally Valuable: Wherever you are in the world, these precious metals will be worth something.
Easily Liquefied: Whether you go to a local coin shop, sell to a trusted online source, or sell to a jeweler, turning gold or silver bars or coins into cash is easy and fast. Today, it's easier than ever to make gold and silver part of your portfolio. I recommend SchiffGold and American Gold Exchange because their precious metals experts will walk you through where and how to buy gold and silver. Whether you're considering home storage or converting your IRA into precious metals, their teams will take the time to understand your individual needs and goals.
Reliable Investment: Gold and silver has proved throughout history to be stable and reliable investment options that are worth looking into.
Diversifies Your Portfolio: This is probably my favorite point, and if you've followed along here for some time, you'd know I talk about this a lot. Having multiple streams of income is vital along with building a robust financial portfolio.
Hint: Real estate investing is always a good idea to help you with this! Committing to both will help you reach financial success and live a comfortable life now and for years to come. If you're ready to secure your purchasing power, gold and silver might be something you'd like to consider. If you'd like to schedule a call with me, I can offer you more information, and we'll discuss additional investment options that may interest you.